What is Activewear ?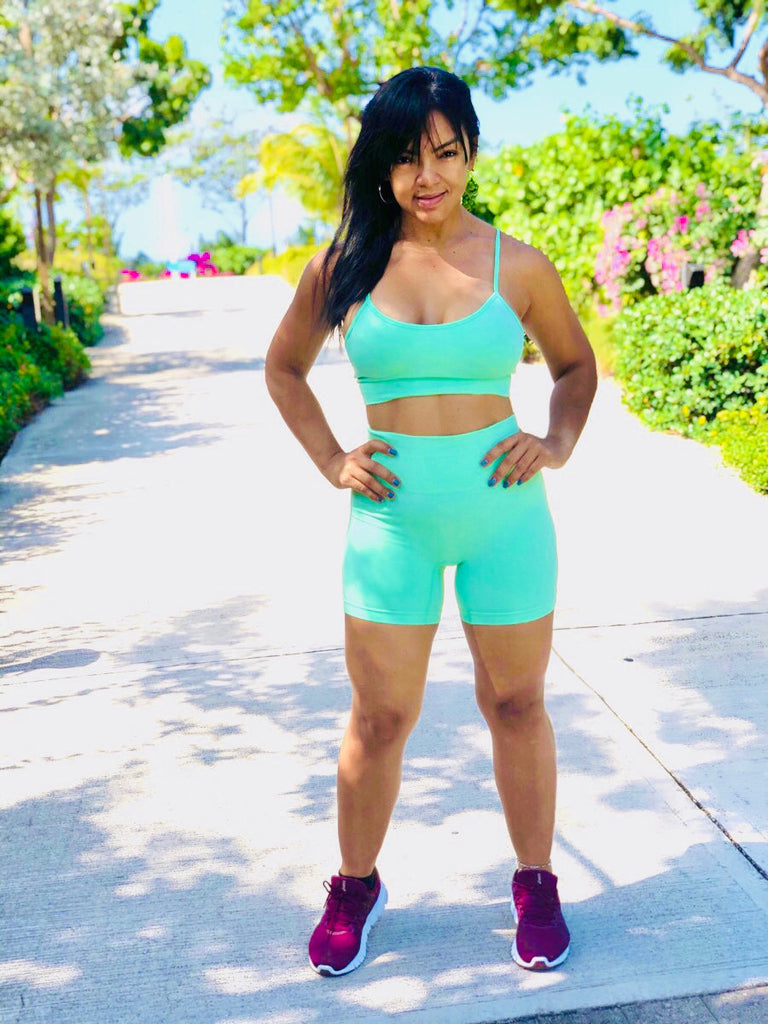 What is Activewear ?
Fashion is everywhere around us. Even when we escape the world of clothing, fashion statements are still surrounding us. The colors we use for our technology, the materials we choose for our accessories, the pattern combinations on our shoes. It seems that fashion is truly taking over and is commonly used as a way to show personality and character.
In recent years, a new trend was placed under the spotlight to attract the eyes of many around the world. The trend that we are speaking of is activewear. If we look around we are likely to spot a revolution rising in the way people dress. Nowadays it is no longer all about the looks. Comfort and practicality are rising as essential factors in choosing one's clothing and it is only natural that activewear has become an attractive and intriguing topic. 
Today, we will look into activewear in more detail and see what defines it in reality. We will also make some useful suggestions on preparing an outfit based on the trend and explore where we can use its benefits.
Activewear defined
To offer a short and comprehensive definition of activewear we started by looking it up in the dictionary. It wasn't a surprise that we found an extremely simple and straightforward explanation:
"Activewear is casual, comfortable clothing suitable for sport or exercise."  
However, the reality behind activewear is certainly not so simple. Yes, it may refer to clothes created with the purpose of being worn during physical exercise, sports, or other outdoor activities. But is that all that there is to it?
What's missing in the description provided above is the element of style and fashion. Activewear, apart from being created to help athletes and sportspeople wear something comfy and supportive to the gym or other physical activity, offers stylish attributes that complete the look. It can be worn both during exercising and in other casual scenarios, where there is no physical activity involved. It can be the best answer when you are looking for clothing to relax in, spend time with friends, or go to the local coffee shop for a drink. 
The perfect balance between style and comfort
We must note that the original intention behind activewear was indeed related to sports. With the dynamic lifestyle of most individuals today, the attention shifted from a pure athlete-related concept to a broader, more general audience. Design and functionality meet halfway for activewear to be born. Uncovering the real meaning behind activewear, we can see that it comes as a transition from exercising to casual wear. 
If we think about it, let's imagine the standard day of a working individual in the city. The busy daily routines often require careful clothing preparation for all that is yet to come during the day. It is common for many to fit in some time for the gym, a run in the park, or another form of sports activity before or after work. Especially in the larger cities, it is a privilege to find the time to return home before hitting the gym, for instance. This is where activewear comes in.
It is the perfect way to stay stylish and at the same time have the comfort and freedom of movement necessary for you to go through your planned workout. Activewear gives you the opportunity to stay healthy, active, and stylish without having to compromise on any of these points. 
Activewear fabrics
So far we know that activewear must be comfy and flexible enough to wear during a workout. The fabrics used for this clothing style are with a 4-way stretch that allows the fabric to follow the movements of your body. This may include knits and wovens but it is certainly not limited to the two. The fabrics usually have moisture-wicking properties, which guarantee that you can get as sweaty as you need to burn those calories and stay in shape without having to worry about your clothing turning on you. 
With activewear, it is safe to say that you will be supported fully. Regardless of whether you've chosen to go for a cardio workout, a yoga session with a lot of stretching, or spend some time in the gym with the weights – activewear is there for you. 
Is activewear different from sportswear?
The other main category of clothing popular among athletes and sports enthusiasts is sportswear. A common question that arises is whether sportswear and activewear are the same things, and if not – what's the difference between them?
If we dig deeper into the nature of both, we will discover that they do have their differences and unique purposes. 
While activewear is usually created from a sustainable material and includes clothing pieces such as parkas, hoodies, pants, crew neck fleece sweaters, and more, sportswear includes any clothes, shoes, or accessories that have been created with the sole purpose of exercising or taking part in sports. When we talk about sportswear we should always ask ourselves about the function of the clothing item. Does it have any thermal properties, does it provide ultimate comfort, is it sustainable? Has the fabric been chosen specifically because of its weight to make certain movements easier? 
Comparing the flexibility of both styles, activewear prevails as the clothing is usually created to fit a wider range of physical activity types. Sportswear is not as flexible as its focus is solely on comfort and functionality, as well as keeping the temperature of the body as required by the sport or physical activity.
Going back to the basic idea behind activewear, it aims to provide a comfortable transition to casual attire and its chosen fabrics, clothing cuts, and styles show it. If you're someone who loves to spend time outdoors but you appreciate the importance of fashion and looking stylish at the same time – then activewear is certainly something you should try. 
Activewear products to try
Two of the most favorite pieces of activewear clothing include the leggings and a sports bra. Having these two products in your wardrobe can change your life for the better. Extremely flexible in terms of style, a pair of high-waist leggings can be used for both sports purposes and more casual scenarios, such as going to the cinema with friends or dining in the local restaurant. Due to their high stretch abilities, leggings are a perfect choice for even the most demanding sports classes. Meanwhile, they can be worn with a pair of trainers but can also go well with heels or boots, depending on the color you have selected. The plainer the color – the better suited your leggings will be for a casual event. 
Moving on to the sports bra, it is worth mentioning that its uses are merely infinite. Some consider the sports bra a piece of clothing that remains hidden beneath your top or sweater. However, this cannot be further from the truth. Sports bras can be worn separately. Their purpose is different from that of standard bras, which are considered underwear. Combining a pair of high-waist leggings with your favorite sports bra, covered by a causal cardigan is a clever way to cover two things at once – being dressed for the gym and at the same time being stylish enough to take on any other events you have afterwards. 
To conclude
Now that we've looked at activewear in more detail we hope that you have a clearer idea of its nature, idea, and purpose. Activewear is a popular and trendy way of dressing for people of all ages, cultures, and origins. It is a uniting style that allows us to feel comfortable in our own skin and at the same time look stunning and have the confidence to tackle the day with a smile. If you still haven't tried activewear, we highly recommend it! Start by choosing a pair of leggings and a sport bra  that will suit your preferences. 
Enjoy!